Net Zero Naturally, our four-part webinar series, wrapped up last week. Hundreds joined us to learn steps and strategies for how ice rinks and arenas can reduce their carbon footprint. One of our webinar polls revealed that many attendees are in the early stages of working toward achieving a net-zero facility. No matter where you are in your journey, here are the three key takeaways from our series to help you get to the finish line
Insights from our month long webinar series run
Net Zero Naturally, our four-part webinar series, wrapped up last week. Hundreds joined us to learn steps and strategies for how ice rinks and arenas can reduce their carbon footprint.
One of our webinar polls revealed that many attendees are in the early stages of working toward achieving a net-zero facility. No matter where you are in your journey, here are the three key takeaways from our series to help you get to the finish line.
The refrigerant you choose matters
Different refrigerants have different environmental impacts. According to the North American Sustainable Refrigeration Council (NASRC), pound for pound, Hydrofluorocarbon (HFC) refrigerants have up to 4,000 times more global warming impact than carbon dioxide, and earlier this year, the Environmental Protection Agency (EPA) announced it will phase down HFCs. Climate-friendly refrigerants with an ultra-low global warming potential (GWP) like Ammonia—which is keeping ice cool at the Climate Pledge Arena—and CO2, are a future proof choice. These naturally derived refrigerants are also free from trifluoroacetic acid (TFA), a chemical that has proven to be harmful to humans and the environment and that is linked to hydrofluoroolefin (HFO) refrigerants. The other reason your refrigerant matters? There is no such thing as a leak-proof system—whether it's your home air conditioner and refrigerator or your ice rink, there will be leaks. And because the lifespan of an ice rink is 20 to 30 years, if it keeps getting refilled with high-GWP refrigerants, its climate impact will be exponential.
Energy efficiency saves you money and reduces greenhouse gas emissions
When you make sure your facility is energy efficient, it reduces your environmental footprint, and improves your bottom line by cutting your energy costs. One of the easiest ways to do that is to use heat recovery. In other words, taking advantage of the waste heat produced by refrigeration systems—a free and renewable resource—with tools like heat pumps, to reduce things like natural gas usage. In one webinar poll, more than 50 percent of respondents said they have a reclaimed heat source in their building including an underfloor system, or a partial source (e.g. snow pit, resurfacer water, shower water). The other way to be more energy efficient? Track what you spend and where. (Another webinar poll revealed that 40 percent of respondents weren't aware of how much they spend annually on energy at their rink.) Getting those numbers straight, along with using smart technology to monitor energy use in real time so you can identify areas for improvement, will help reduce emissions. There are also energy grants for new builds and retrofits available. For a full breakdown of these, watch episode four of our webinar series.
Green power is the future

Environment and Climate Change Canada reports that buildings are the third largest source of greenhouse gas emissions, and according to a 2019 joint report by the International Energy Agency and the National Energy Board, nearly two-thirds of the energy used in buildings is for heating and cooling. That's why using renewable energy sources like solar to help power your facility can have a significant impact. So can the use of district energy, or low-carbon thermal energy networks, which have earned a thumbs-up from the United Nations Environment Program for their climate benefits. Here's how they work: Rather than having a separate heating and cooling system for each building in a community, multiple buildings are connected to one central system via a network of pipes that help deliver thermal energy to the entire neighbourhood. And the good news is that this idea isn't novel. It's already being used in cities like Vancouver, Halifax and Edmonton, with more and more projects popping up as the need for climate action continues.

If you missed any or all of the webinar sessions, you can catch them all here.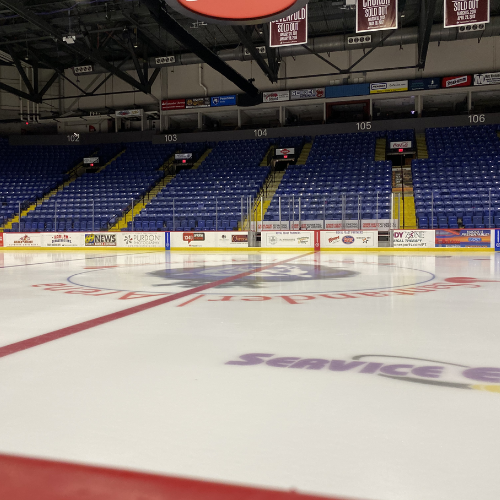 8,000-Seater Santander Arena Adopts CO2 Refrigeration, Achieves Significant Savings Across the Board
Thanks to the upgrade, Santander Arena shaved 795,006 kWh off its energy bill after just five months and reduced its monthly water usage by 40%. Additional maintenance savings are also expected.
Read more
STAY UP TO DATE
Get the latest industry insights and important updates delivered right to your inbox.