Our food system both contributes to and is affected by global warming. Here's how we can change that.
By David Fauser
In order to get to net-zero emissions by 2050, industries from automotive and sports to textiles and tech have a role to play in making that happen. One area in particular that climate experts point to as a priority for reducing carbon footprint is our food system—which accounts for more than one third of global greenhouse gas emissions—because of population growth, and things like the extreme weather caused by global warming that impacts agriculture.
Pathway to Net Zero x Food Supply Chain
In 2021, CIMCO released a Pathway to Net Zero framework that focuses on eliminating refrigerant emissions, optimizing energy consumption and harnessing green power. This framework serves as a big picture guide to help our customers identify and implement both short-term and long-term goals. What's exciting is that many of the solutions regarding refrigeration and heating already exist, and can be retrofitted within an existing building.
Sustainability in Action
Maple Leaf Foods (MLF) is a great example of a retrofit scenario. The company recently installed a desuperheater at one of its Ontario plants to offset the use of natural gas. Not only did MLF receive a project subsidy from its utility provider, they are projected to see a return on net assets in five years. And at a Manitoba MLF plant, CIMCO installed an ammonia heat pump system to help reduce natural gas consumption by 3 million cubic metres annually. These initiatives are helping MLF get closer to its goal: to become the most sustainable protein company on earth.

It's encouraging that companies like MLF have made net-zero pledges to cut their greenhouse gas emissions. CIMCO is helping to turn those commitments into action, by working with all of our customers in the food supply chain to put together tangible multi-year sustainability plans and execute projects that prioritize fossil fuel reduction, resource conservation, and energy efficiency.
We're Playing the Long Game
Getting to net zero can seem daunting, but it can be accomplished over time. The key is to start with a solid baseline that takes into account all greenhouse gas emissions within your plant. Once you have this data, you can start to look at projects to reduce your overall impact, whether that's installing an adiabatic condenser or addressing dehumidification in processing and storage. Many plants prioritize projects based on some common criteria such as greenhouse gas reduction, energy reduction, financial payback, available incentives, the age of assets, ease of implementation, available current technology, and plant disruptions. Typically, some projects are implemented right away through simple operational changes, while other projects may involve a complex retrofit. For the most part, this is a marathon, not a sprint. Opportunities and variables like government incentives, regulation changes, equipment lifecycle and looming carbon taxes make starting these projects sooner rather than later essential for a stable and profitable future. Having a net zero plan ensures you're coming to the exam prepared, not pulling an all-nighter.
It's a Team Effort
We know we are all in this together and CIMCO is committed to identifying and developing tools to help our customers get there. We're looking at the practical ways we can share what we know about new technologies, methods, and business cases to help our customers develop and justify business cases to introduce projects that incorporate heat recovery, water, gas, and electricity reduction. Climate change is one of society's greatest challenges, and we look forward working with you as we head toward a more sustainable future.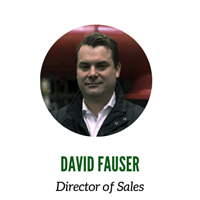 David Fauser is the Director of Sales for CIMCO Refrigeration, and has been with the company for more than 20 years. During that time, he has been involved in hundreds of local and professional new rink designs and retrofits throughout North America. David has a passion for ice sports and sustainability. He is a strong voice on environmental issues and legislation, and is a thought leader in the industry. He believes that there is a solid business case to incorporating net-zero and net-zero-over-time strategies to today's refrigeration projects.
Get in touch: dfauser@toromont.com

Net-Zero Naturally For The Food Supply Chain
Mar 11, 2022, 16:00 PM by Ethan Poirier
Learn about the strategies to achieve Net-Zero emissions for the food and beverage industry, using your refrigeration and heating systems to reduce and eliminate emissions, and actionable items you can implement immediately.
STAY UP TO DATE
Get the latest industry insights and important updates delivered right to your inbox.