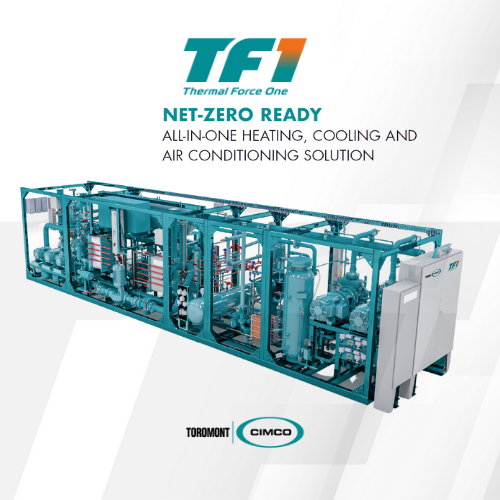 Getting to Net Zero is easier than you think.
Upgrading your arena equipment is a necessary step, whether it has reached the end of its life or you are looking for more sustainable options. But it doesn't have to be a complicated process. With over 100 years of experience designing thousands of ice rinks, CIMCO has developed the industry's most efficient, sustainable, and safe industrial-grade ice rink refrigeration system to ensure your arena is prepared for the fast-approaching net-zero future.
Download the brochure
Product Specifications
Unlocking the Potential of Thermal Management for a Net Zero Future
The Thermal Force One (TF1) offers a unique solution for heating, cooling, and air conditioning needs, potentially doing away with natural gas boilers. TF1 utilizes natural or green heat sources, both on-package, and off-package. Geothermal, air-source coolers, effluent or sewage water, and district cooling are some examples of extended cold sources that can be connected to the system
With TF1, you can enjoy a heating boost of up to 175F for various purposes, including comfort heating, ice resurfacing, and building hot water, as well as low-temperature heat for under-ice frost protection, snow melt pits, in-floor radiant heat, fresh air pre-heat, rinks, gyms, pools, dressing rooms, and potable water pre-heat.
The same process used for cooling the ice is also utilized to provide air conditioning where needed, without requiring significant additional capacity.
And the best part? All of this can be achieved with just one single system.
Engineering Excellence:
How Thermal Force One Delivers Unmatched Performance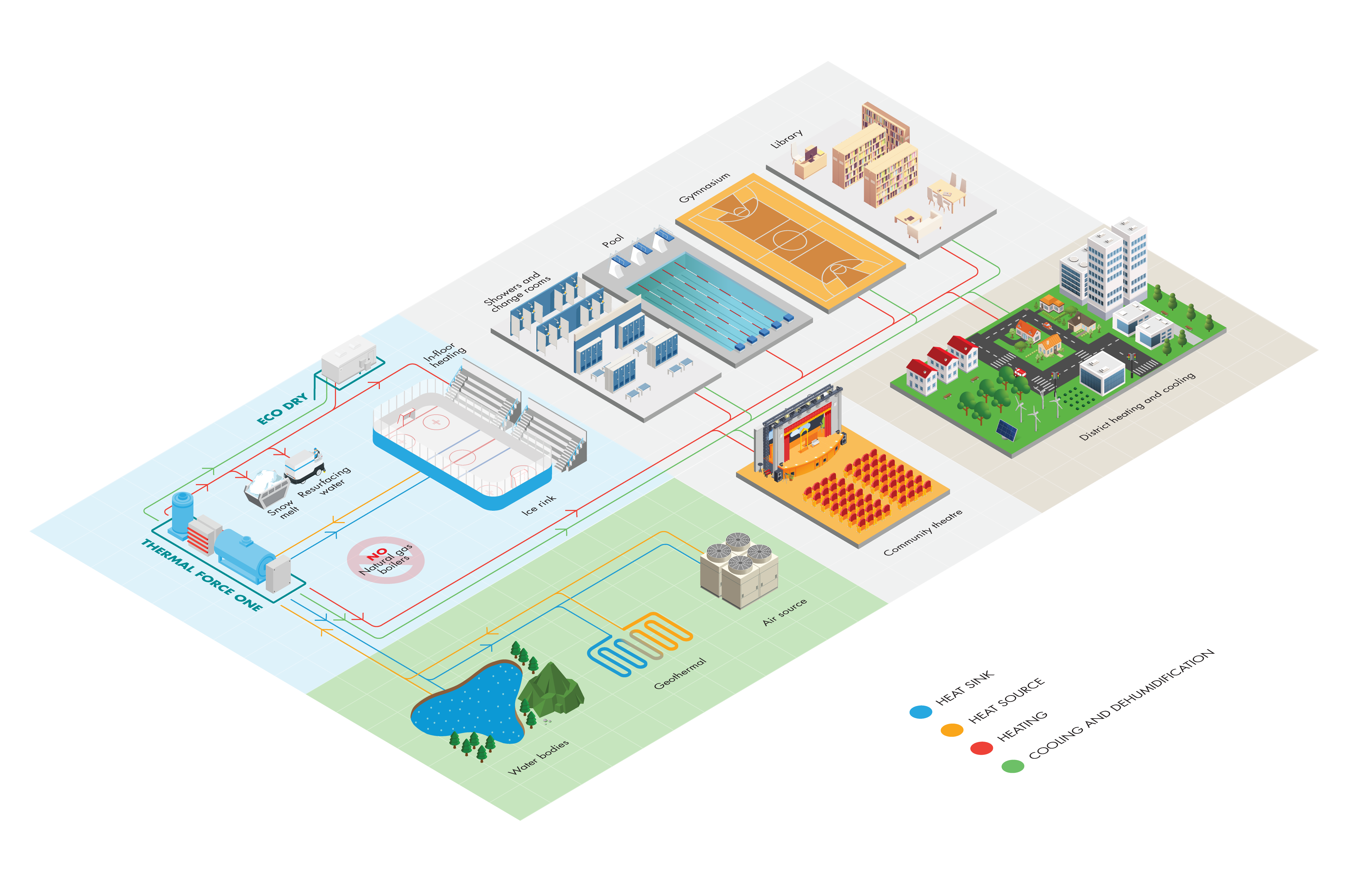 Experience the future of ice rinks with TF1
TF1 offers unparalleled functionality, minimum environmental impact, top-notch safety, and reliability in a single system for a wide range of applications, outperforming any other refrigeration technology.


CIMCO ECO DRY
This system is a state-of-the-art ventilation and
dehumidification system that also doubles as a
heating system for indoor ice rinks. It uses
outdoor air to improve the environment
inside, and effectively controls
temperature and humidity levels for
optimal air quality, ice quality, and comfort, no
matter the outside air conditions.
Learn more
CIMCO ICE BATTERY
TF1 includes a thermal storage system that stores excess heat (or cold) in the form of ice. Depending on the facility's needs, stored thermal energy can be used to reduce energy consumption and related costs during times of peak demand - providing peak cooling in the summer or stored heat in the winter.
LOW-CHARGE AMMONIA
Ammonia is a natural refrigerant with an ODP and GWP
of zero. Known for optimum energy efficiency, heat
recovery, and reliability, TF1 takes it one step further by
reducing the overall ammonia charge in the system. With
an ultra-low ammonia refrigerant charge of less than
one cylinder per sheet, The TF1 improves overall
efficiency and safety and greatly reduces the risk of
potential exposure due to refrigerant leaks.
Feature Story: CIMCO Launches All-in-One Thermal Solution for Net-Zero Buildings
CIMCO Refrigeration (CIMCO) is pushing the boundaries of thermal design to help facility managers, and specifically, ice arena owners, who want to meet their net-zero, energy consumption, and safety targets. The patent-pending Thermal Force One (TF1) does the job of a heat pump, refrigeration system, and air-conditioning system – all in a single packaged system.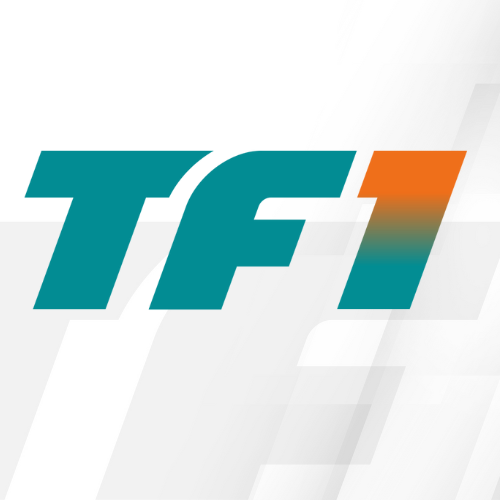 MAKE A BIG IMPACT ON YOUR EMISSIONS
Indoor ice rinks use large amounts of energy for heating and refrigeration. These buildings are often the largest greenhouse gas (GHG) emitters and typically account for around 40% of the energy usage in municipal building portfolios.1 That is why they are a great place to start your net-zero retrofits.
By using a natural refrigerant like ammonia (R717), an arena immediately reduces its direct emissions to zero as it has no Ozone Depleting Potential (ODP) or Global Warming Potential (GWP). To tackle indirect emissions from energy use, having a state-of-the-art integrated heating and cooling system that uses waste heat to reduce the reliance on natural gas, can make a significant impact.
In fact, real case studies have proven that the most emissions savings in an arena can be found by improving its refrigeration system (29% of emission savings) while heating improvements can realize 21% of emission savings.2
TF1 incorporates all of these features to provide maximum impact and ensure the lowest emissions for your facility – today, tomorrow, and until the end of equipment life.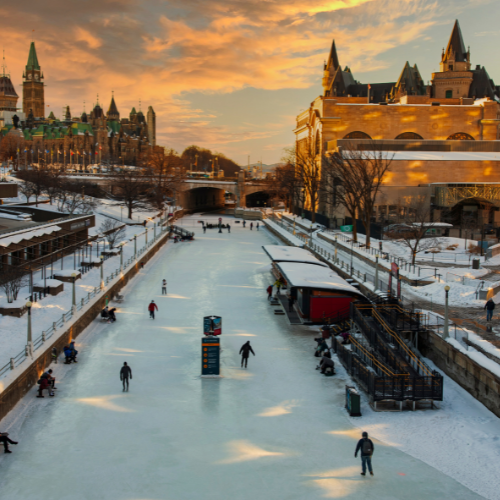 Skating rink to heating source: Benefiting the Rideau Canal Skateway and the surrounding community
Read more