At the start of the Victoria Day weekend in Canada, with a forecast of summer-like heat and humidity, CIMCO Refrigeration customer, Aspire Bakeries (formerly Arytza), had a problem. The international company that specializes in artisan breads and pastries, and supplies multiple points of sale, had a screw compressor down at its Ancaster, Ontario location that couldn't be repaired. Around midnight on the Friday evening, Service Manager Dave Parise received the news, and sprang into action. "On Saturday morning, I woke up to all the emails," says Mike Bradley, Team Lead Industrial Service Sales for the Ontario Region.
The first hurdle? The CIMCO team needed to track down a replacement compressor. After touching base with Gino Battel, CIMCO's account manager for another facility, they found the company had two used compressors on hand in Leamington, about a 3-hour drive from the Aspire Bakeries facility. "Not all compressors will serve the same purpose, so the fact that we found one that met our customer's specifications was really fortunate," says Bradley. "Everything aligned for the customer."
With the compressors sourced, the next challenge was building a team, no easy feat during a long weekend, with people and resources scattered all over the place. Numerous calls were made to rally a team of welders, electricians and the Technical Standards and Safety Authority (TSSA). Away on a weekend fishing retreat, Account Manager Dennis Hoogenboom was doing air traffic control, trying to coordinate everything from his boat despite spotty cell reception, until his phone's battery eventually died.
The next goal was getting the compressors up to the facility's second floor. This type of compressor, which weighs over a ton, needs to be moved with a crane, so a crane operator was required. There were also piping modifications that needed to be made before the compressors could be hooked up. Rich Szabo was the lead technician on site. "It was a very technical feat," says Bradley.
By pulling a lot of strings, and working throughout the long weekend, the team was able to get everything up and running by Tuesday morning with no loss of product or halt in production for Aspire Bakeries. Without a team effort, everyone dropping their long weekend plans, and a little serendipity, this monumental undertaking with a tight turnaround wouldn't have been possible, says Bradley. "In the middle of urgent and challenging jobs like this, it's overwhelming, but once it's behind you and the customer is happy, it feels great."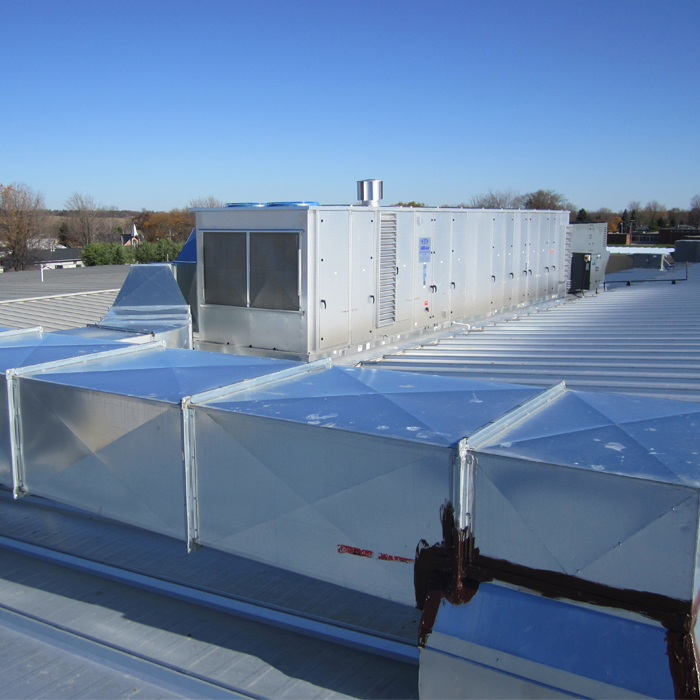 The HFC Phasedown's Impact on Ice Rinks and Industrial Plants
As part of the global effort to mitigate climate change, the HFC phasedown has profound implications for various industries, particularly ice rinks, food and beverage production, process cooling & manufacturing plants.
Read more
STAY UP TO DATE
Get the latest industry insights and important updates delivered right to your inbox.