The BMO Centre was recognized as a leader in efficiency and sustainability, and our ECO CHILL technology played a role in this distinction
The Federation of Canadian Municipalities (FCM) recognized the City of Bedford's 4-pad arena as a leader in efficiency and sustainability, and we're very proud to have played a role in this distinction.
In the Engine Room
The state-of-the-art multipurpose arena uses its ice making equipment to provide all of the heat and hot water throughout the building.
Instead of exhausting it out into the atmosphere, our sustainable refrigeration system, ECO CHILL® , reuses the waste heat generated from producing ice. It takes two separate processes, ice making, and heating, and combines them into a single system – dramatically lowering both the arena's energy costs and environmental impact.
We developed ECO CHILL as part of our commitment to offering sustainable solutions for ice rinks.
ECO CHILL collects and recycles the energy used to maintain the ice surface, providing abundant heating for the building and hot water for multiple applications, from showers to underfloor heating, ice re­surfacing to snow melting systems. What's more, all of this energy recycling equipment is contained entirely within the engine room!
As part of the turnkey package, we were responsible for the complete design and installation of the essential refrigeration compo­nents, including low maintenance, high-efficiency screw compressors, low charge indirect ammonia, heat exchangers and controls. The CIMCO Ice BatteryTM collects and stores thermal heat, so it can be used on an as-needed basis.
Results that Speak For Themselves
The energy performance of the BMO Centre has exceeded the Model National Energy Code for Buildings by 40%, saving an estimated 11,741 gigajoules of energy each year. As a result, The Halifax Regional Municipality has reported energy savings of over $100,000 per year.
The boilers in the BMO Centre don't run; the refrigeration system heats the entire facility.
Fun Facts
The heating system utilizes 95°F/35°C waste heat from the ice plant, providing all of the building's heating except on the coldest days
Waste heat from the plant preheats service hot water for ice making and domestic hot water
Heat recovery ventilators provide fresh air to the dressing rooms and air handling units
Embedded bleacher radiant heating provides a more comfortable environment and saves more energy than conventional heating systems
Variable Speed drives are installed on circulation pumps to save electricity and provide greater control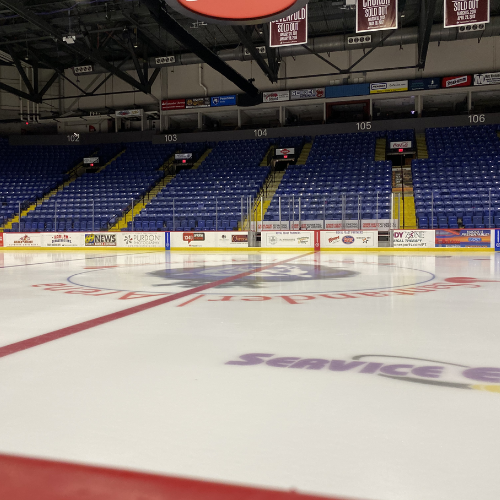 8,000-Seater Santander Arena Adopts CO2 Refrigeration, Achieves Significant Savings Across the Board
Thanks to the upgrade, Santander Arena shaved 795,006 kWh off its energy bill after just five months and reduced its monthly water usage by 40%. Additional maintenance savings are also expected.
Read more
STAY UP TO DATE
Get the latest industry insights and important updates delivered right to your inbox.