Waste heat used from refrigeration system reduces greenhouse gas emissions.
Maple Leaf Foods (MLF) is one of North America's leading producers of high-quality meat and plant-based proteins. In 2019, it became the first Canadian food company to set science-based targets for greenhouse gas emissions, and the world's first major food company to reach carbon neutrality. To offset unavoidable emissions that cannot be reduced, MLF has invested in environmental projects across North America, including forestry, waste diversion and renewable energy initiatives to bring the company's net carbon footprint to zero.
"Our journey to become the most sustainable protein company on earth has only just begun and we are invested at every level of our organization to urgently address the negative impact of carbon emissions on the environment," said Michael H. McCain, President and CEO, in a press release marking the company's one-year anniversary of being carbon neutral. "We have ambitious science-based targets that will guide our progress in the years to come, and we are committed to long-term leadership in sustainability.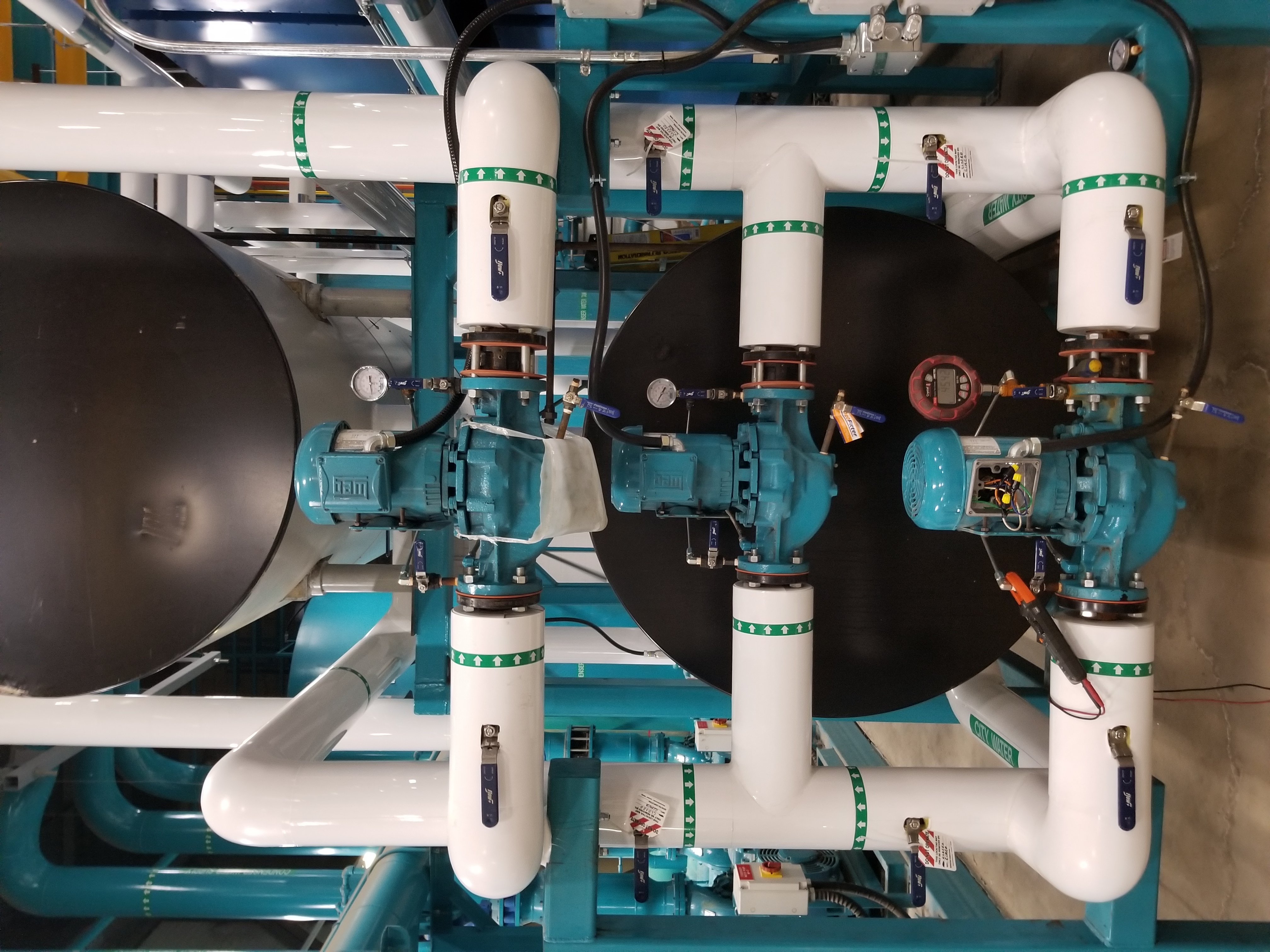 The Goal
Some of MLF's sustainability goals include a commitment to reduce its environmental footprint and food waste by 50 percent by 2025, and to reduce absolute greenhouse gas emissions produced from its operations and electricity purchased by 30 percent by 2030. With its meat processing plants, MLF saw an opportunity to reduce natural gas usage in its boiler system by using the heat generated by the facility's refrigeration system, which runs on Ammonia, a climate-friendly refrigerant with zero global warming potential. The MLF team approached CIMCO about the possibility of using heat recovery technology to do this. Nearly three-quarters of all the energy produced by humanity becomes waste heat; by capturing and reusing this often overlooked renewable resource, MLF is rasing the sustainability bar within its industry and beyond.
Challenges
Before moving forward with the project, CIMCO took several challenges into consideration: MLF had limited production down time, compounded by the additional challenge of pumping down a very large plant consisting of 20,000 lbs of Ammonia. Supplying back-up cooling during the plant shut-down would be critical to maintain an inventory of $2 million of refrigerated product. This project would also be the largest desuperheater installation in Ontario.
Solution
The CIMCO team prepared an efficient solution that would meet time deadlines and get MLF closer to its sustainability goals. CIMCO had previously installed the refrigeration system at this plant, making them well suited to complete this task. Prior to this project, CIMCO completed a feasibility study to project the potential natural gas energy savings. This was accomplished by aligning system run time and loading with available system heat sinks. CIMCO then selected equipment for this project to take maximum advantage of available waste heat: a potable water Desuperheater from Doucette Industries. The desuperheater captures rejected heat from the refrigeration system and uses it to heat boiler make-up water.
CIMCO provided a one-stop, turn-key solution for this project, including the following services: equipment and piping installation, piping insulation, controls and electrical services, and system commissioning.
Results
The solution introduced a measured savings of over 600,000 cubic meters of gas per year. That's roughly 8 percent reduction of the plant's usage. Through the installation of the Desuperheater, MLF was able to reduce their greenhouse gas emissions associated with heating water with natural gas boilers, by using the rejected heat from the refrigeration system instead. In total, 1,172 tonnes of greenhouse gas emissions was reduced per year, which translates to a 5.5 percent reduction in the plant's greenhouse gas emissions. MLF expects a sizable project subsidy from the utility provider and they'll see a return on net assets (RONA) in 5 years.
The reduction in the gas emissions not only helps MLF further reduce its environmental footprint, it also helps the company continue its mission to be the most sustainable protein company on earth.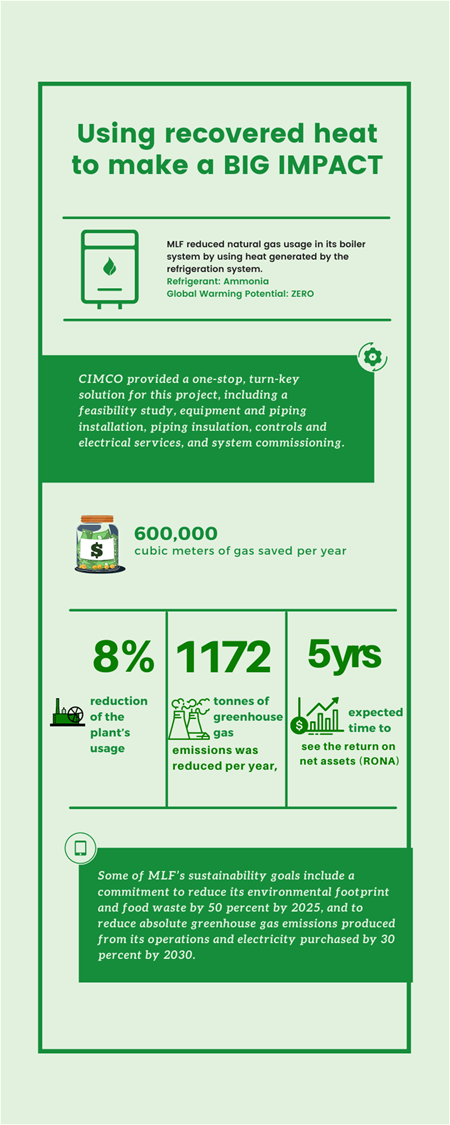 Projected results for desuperheaters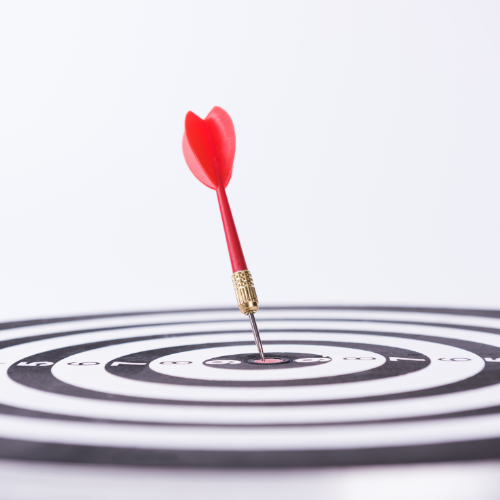 Achieve your Net Zero Emission Targets Without Replacing Major Refrigeration Equipment
Here are some quick tips for increasing efficiency and reducing the overall operating costs of an existing refrigeration system.
Read more
STAY UP TO DATE
Get the latest industry insights and important updates delivered right to your inbox.