A nearly 30-year old community arena gets a R22 retrofit to a state of the art CO2 system
Centre Sportif Sainte-Anne-des-Plaines is a non-profit organization that opened its doors in 1994. Since then, it's been a recreation and sports hub for the community that has a population of 15,000. The 300-seat, 27,500 square foot, single rink arena is located in a residential area, and hosts everything from minor hockey to public skating. It also supports the physical education and sports programs at Du Harfang high school next door. All decisions regarding the facility must be brought to the facility's governing committee for approval.

Customer objective



To improve energy efficiency, modernize the facility, and take advantage of a grant opportunity from Quebec's Ministry of Education and Higher Education, Centre Sportif Sainte-Anne-des-Plaines' director Roberto Marandola made the decision to retrofit his system that previously ran on R22, a refrigerant with high Global Warming Potential (GWP) that is being phased out by the federal government to align with the Montreal Protocol and Kigali Amendment. The CO2 system being environmentally conscious was a bonus, but Marandola's main goal was to save money with a system that would reduce energy costs.
"This was the first time I worked with CIMCO, and it was the best decision I've made."
- Roberto Marandola, Director, Centre Sportif Sainte-Anne-des-Plaines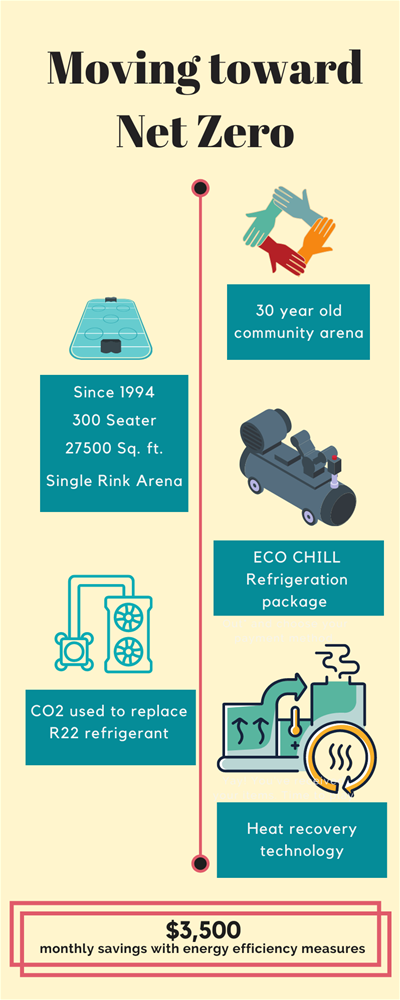 Solution
Because the facility is in a residential neighbourhood, a feasibility report identified a CO2, which is classified as a A1 refrigerant with low toxicity and low flammability, as the optimal and safest choice based on Centre Sportif Sainte-Anne-des-Plaines' close proximity to surrounding homes and a school. Not only does CIMCO's Eco Chill system run on CO2, which is climate-friendly with a negligible GWP, it capitalizes on the science of thermal dynamics to maximize building efficiency, and features heat recovery technology that keeps costs low, without compromising ice quality.
Centre Sportif Sainte-Anne-des-Plaines' provincial grant (to cover 50 percent of the total cost) was preapproved in early 2019 with the caveat that the retrofit be completed before Dec 31, 2020. The facility also received an additional subsidy from Hydro Quebec, which was nearly three times what they were originally expecting. Despite being faced with the challenges of executing the project during a global pandemic, construction began in May of 2020 Centre Sportif Sainte-Anne-des-Plaines reopened in mid September, 2020.
Results
Cost savings
"Our goal is to save $50,000 a year," says Marandola. "A lot of people told me I was dreaming," he says, but as of earlier this year, the facility is averaging a monthly savings of $3,500 in electricity and hydro, with the help of other energy efficiency measures, such as transitioning to LED lighting in 2019.
Convenience
"I find the system so flexible," says Marandola. CIMCO's automation group technology allows the facility to adjust temperatures remotely, something that has come in especially handy during the pandemic when working from home has been necessary. The facility has also been routinely closed because of lockdowns and curfews, which has required temperature monitoring multiple times during the day.
A modern CO2 system
Marandola says some of his peers challenged him on CO2 when he shared his plans, but he never looked back, recognizing that these impressions were anecdotal and came from experiences close to a decade ago when the technology was in its infancy. "I went to visit all kinds of CO2 systems beforehand to see the technology in action, but this system is totally different," says Marandola. In terms of ice quality and maintenance, the ice freezes incredibly quickly, something the Zamboni driver noticed immediately. "By the time they do their full turn, it's frozen—there's no waiting," says Marandola. "The ice is also harder, and nicer to skate on."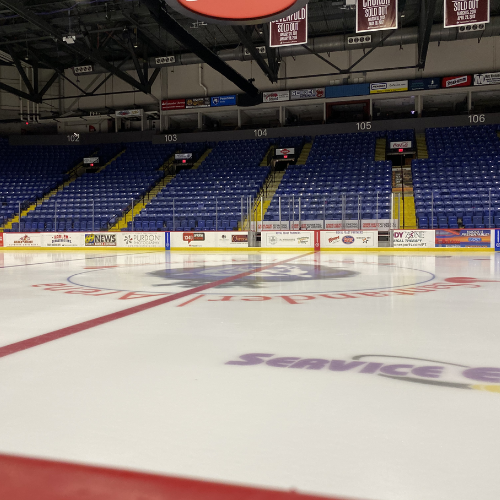 8,000-Seater Santander Arena Adopts CO2 Refrigeration, Achieves Significant Savings Across the Board
Thanks to the upgrade, Santander Arena shaved 795,006 kWh off its energy bill after just five months and reduced its monthly water usage by 40%. Additional maintenance savings are also expected.
Read more
STAY UP TO DATE
Get the latest industry insights and important updates delivered right to your inbox.