Outdoor Transcritical CO2 Ice Trail - the first of it's kind
The Barbara Ann Scott Ice Trail is the first of its kind in the world – the first transcritical carbon dioxide system for an outdoor ice trail. The five-metre-wide trail, named after the iconic Canadian figure skater, is set in the heart of bustling downtown Toronto. Doubling as a walking loop in summer, it provides a unique escape in the middle of a busy city
The multi-year redevelopment project has already proven popular with locals. The park has a water fountain to enjoy in warmer weather and multiple sculptures scattered throughout. Adjacent to the ice trail is a wood, glass and steel structure that acts as a rink house and Zamboni station.
"College Park is a green oasis not just for the large and growing residential neighbourhood in Downtown Yonge, but also the thousands of employees, visitors and students looking for a respite from the daily hustle and bustle of city life. Revitalizing the park encourages new uses and brings new activities into the park, to the enjoyment of all community partners as well as Torontonians at large," said Mark Garner, COO of Downtown Yonge Business Improvement Area.
The natural carbon dioxide refrigeration system is non-toxic, non-flammable, and has no net greenhouse gas (GHG) effect. Along with being perfect for its application in this highly populated area, it aligns beautifully with TransformTO.
TransformTO: Toronto's Climate Action Strategy
TransformTO was unanimously approved by the City Council in 2017 and lays out long-term, low-carbon goals and strategies for the city to reduce local GHG emissions. These reduction targets, based on 1990 levels, are:
30 per cent by 2020,
65 per cent by 2030,
Net zero by 2050 (or sooner)
This is how the city of Toronto strives to improve the health of its population, grow the economy, and improve social equity. It requires changes in multiple areas – one of those being how we build and transform community areas like the Barbara Ann Scott Ice Trail.
The Ice Trail
When Toronto contracted CIMCO Refrigeration to supply and install the refrigeration system, they knew a CO2 system was the best solution. It has no negative impact on the environment and costs roughly half as much to operate as other options. Every tonne of refrigeration requires less HP to produce – in fact, it requires up to 50 – 60% less than alternative refrigerants. The system's capacity is 50TR, which is enough HP to maintain the ice surface in all conditions, yet the piping and the CO2 pumps are much smaller and more efficient than standard rink systems. The pipes in this system are just 2" in diameter, while standard rinks are 6" or 8" across. A CO2 detection system sends out an alert if it senses high levels of CO2, and then automatically turns on an exhaust fan.
The CO2 system has another advantage; it is more efficient because it is a direct system. Instead of removing heat at multiple steps, the refrigerant in this system goes straight to the ice floor, removes the heat from it, then uses the same refrigerant to carry it and remove it.
Overall Results
"This ice-skating trail turns College Park into a destination that can be enjoyed throughout the year. Families can come out and experience this skating trail that takes an environmentally friendly approach to a winter activity that is cherished by so many," said Toronto Mayor John Tory.
In a news release, Mayor John Tory said "The College Park revitalization is an excellent example of the well-designed public spaces we can create when we work together with a focus on community and what we know our residents want."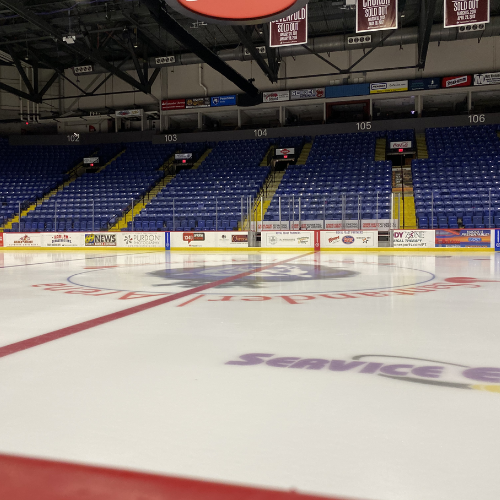 8,000-Seater Santander Arena Adopts CO2 Refrigeration, Achieves Significant Savings Across the Board
Thanks to the upgrade, Santander Arena shaved 795,006 kWh off its energy bill after just five months and reduced its monthly water usage by 40%. Additional maintenance savings are also expected.
Read more
STAY UP TO DATE
Get the latest industry insights and important updates delivered right to your inbox.